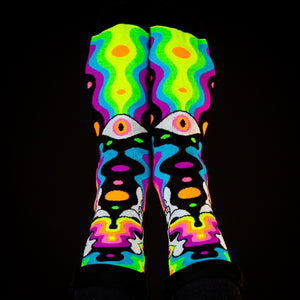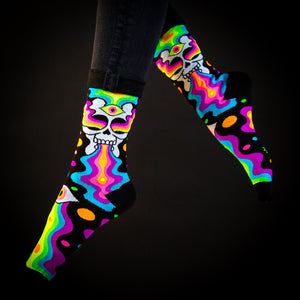 Regular price
EYE OF THE DOOMED
---
To achieve the desired effect, mix 1 gallon of rainbows with three drops of spider's blood and bring to a boil, inhaling the vapors.  When the smoke turns pink, close your eyes and turn six times clockwise.  Take what's left and drip onto blotter paper.  Trust us, it's better than most of what passes for LSD these days.
Born in Seattle, WA now residing in Scottsdale, AZ, Oliver Hibert describes his art "as an escape from the mundane, influenced by music, colors, death, life, beauty, ugliness, cartoons, drugs, sex, mystery and magic."
His art has been shown in galleries around the globe, and commercially he has designed for clients ranging from Nike to The Flaming Lips.
But the fact that he's wildly successful isn't why we wanted to collaborate with Mr. Hibert - we just think his mind-melting style is fantastic!
These wide ribbed socks reach to mid-calf on most folks and fit a women's size 6 US to men's size 15. As a thicker weave, these socks are optimally worn with sneakers and other roomy shoe styles. Machine wash cold, line dry.
Unisex, one size fits most. Cotton-polyester-spandex-rubber blend.
Made in USA