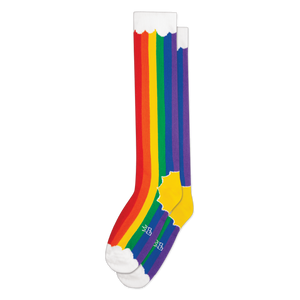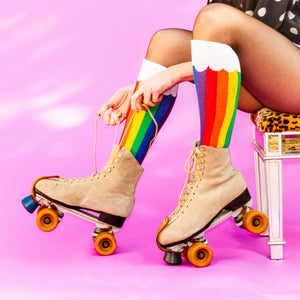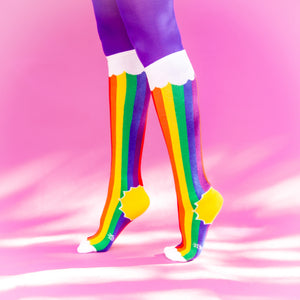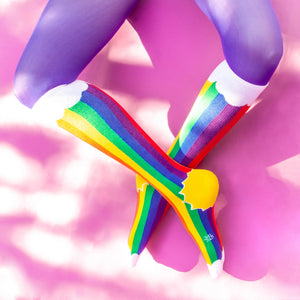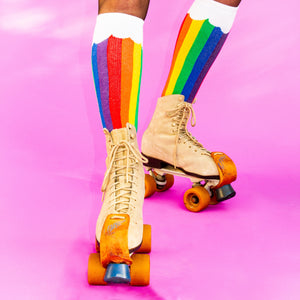 Regular price
RAINBOW CLOUDS - Knee
---
Whether you're a friend of Dorothy's, or you just like rainbows, this knee high sock will keep you in your best form. Sunny vibes for any kind of day - these are sure to put you in the right mood.

Much like the meteorological phenomenon, this brilliant display of colors will dazzle any onlooker. You shouldn't have a problem finding the end of this rainbow... and guess what? YOU are the treasure at the end!

Hit the roller rink with these technicolor tootsie holders and dazzle the crowd with the full color spectrum, with a sun and clouds to boot!

These super-comfy, unisex, one-size-fits-most, Athletic Knee Socks are made in the USA of Cotton with accents of Red, Orange, Yellow, Kelly Green, Royal Blue, Purple.
Cotton-polyester-spandex-rubber blend.
Made in USA 
This is a stretchy athletic weave knee sock and will fit from a women's size 6 US to a men's 13 US.

They reach to the knee up to 6' and can be worn as knee socks or over the knee socks on shorter legs (up to about 5'5").

The Athletic Knee Socks have a cushion foot for added comfort and are designed to stay up through any activity.

Perfect to wear with your favorite sneaks or boots.

Machine wash cold, line dry.