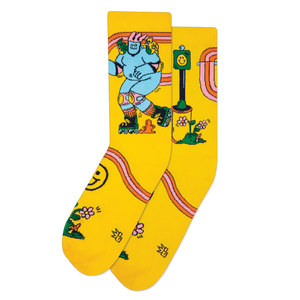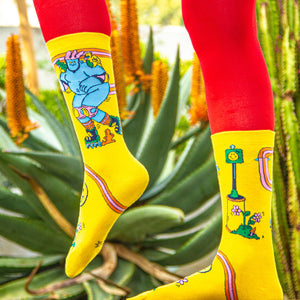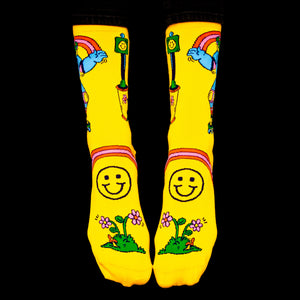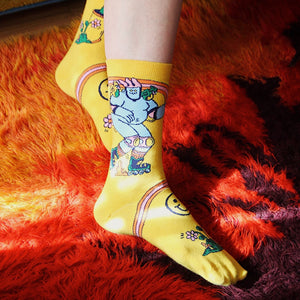 If you're anything like us, you've surely had the urge to take your bird friends out for a quick skate session, wearing nothing but safety pads. Depending on your jurisdiction, it may be better to just buy the socks instead.
Imagine if the kids from Schoolhouse Rock spent their weekend with Alice in Wonderland and learned the stuff they DON'T teach in school. Enter Dreyfus - a self taught mixed media artist that has created a vibrant fantasy world where there are no rules, but plenty of fun.
Based in Boise, ID, she takes inspiration from the likes of Andy Warhol, Keith Haring, and Peter Max… (you can see how we make the perfect pair)
The colorful characters she calls Alter Egos navigate their special world in their own special way, and now, for the first time, you can step into that world - literally!
These wide ribbed socks reach to mid-calf on most folks and fit a women's size 6 US to men's size 15. As a thicker weave, these socks are optimally worn with sneakers and other roomy shoe styles. Machine wash cold, line dry.
Unisex, one size fits most. Cotton-polyester-spandex-rubber blend.
Made in USA