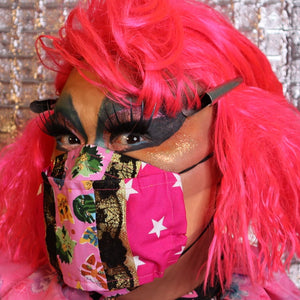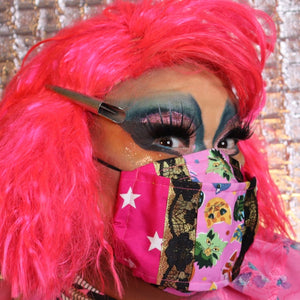 Regular price
THE SHOWGIRL WHO THINKS SHE'S A CAT. (MY PEOPLE MY PEOPLE)
---
All the stars move to the side when this pussy cat meow meow meow enters, in gold and black lace.
In this season of gay, Becca's made some masks inspired by some of the real queers she's had the pleasure to meet. May they inspire you…while they sit on your face. All pink, no rainbows, please, this is Singapore.
This non-surgical mask is handmade by Becca D'Bus in a thoughtful design that fits snug to the face while creating space inside for comfortable breathing.
All masks consist of 3 layers of fabric: An outer layer, a lining and a pocket for an optional filter.
Linings and pockets are made in batiks of random mixed colours, so your mask is beautiful inside and out. Even if you're wearing a full beat.
Masks include a metal strip at the nose for a snugger fit.
Metal strips are laminated and removable, so masks can be machine washed in a delicates bag.
Masks come with elastic for ear loops, elastic is left untied so you can tie them to size, and tuck loose ends out of sight.
2 sizes available: Bigger and Smaller.
Bigger fits a tip of nose to tip of chin measurement of 9.5 to 11.5 cm
Smaller fits a tip of nose to tip of chin measurement of 7.5 to 9.5 cm
Becca wears size: Bigger
External fabric - 100% cotton.
Lining - 100% cotton batiks in random, mixed colours.
Elastic is baby pink
A note about print placement
The print on the outer fabric of this mask is not specifically placed. There will be variations on each individual mask, each piece is unique.