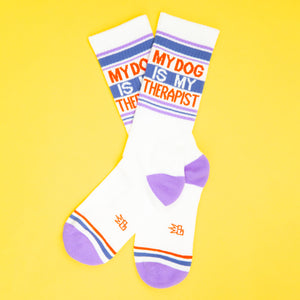 Regular price
MY DOG IS MY THERAPIST
---
After a long stressful day, there's no better therapist than your best bud. They offer a variety of treatments, including wagging their tail whenever they see you, rolling over and asking for belly rubs, or pushing their wet little nose into you so as to say "hi, I love you". There is no better therapist than your dog, so get some socks to celebrate your hero 🐶 .
These super-comfy, unisex, one-size-fits-most, Gym Socks are made in the USA of Bleach White Cotton with accents of Orange Nylon, Carolina Blue Cotton, Denim Nylon.
61% Cotton, 36% Nylon, 3% Spandex.
Made in USA