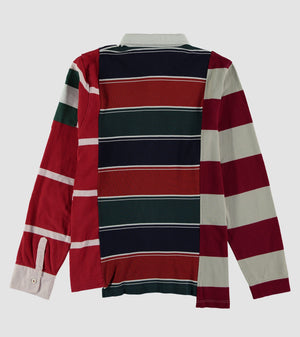 Regular price
RUGBY SHIRT. 018
---
Outsiders Division presents: THE LABORATORY. A new product line created from their favourite vintage clothes. As huge fans of vintage sport clothing, they committed themselves to develop new pieces of clothing with 0 waste. For several months, they have been looking for selected vintage cotton rugby shirts and have mixed them creating tons of new combinations. Each shirt is constructed of three different cuts of clothing, creating multi-striped shirts decorated with their signature embroidered heraldic patch. The fabrics are in mint conditions, anyway, could be small imperfections from the vintage clothes. There is only one piece available. Sewn using genuine cut ups from vintage garments. Each item is unique.
RUGBY STRIPED POLO SHIRT.
MADE FROM VINTAGE SELECTED CLOTHING.
100% COTTON.
CONTRAST COLLAR.
BUTTON CLOSURE. TWO BUTTONS PLACKET.
RIBBED CUFFS.
MADE IN SPAIN.
FABRICS ORIGIN: Ralph Lauren + Mc Gregor + Lacoste.